JOURNALISTS FOR HUMAN RIGHTS
Education, health, productivity, credit and governance all work better when women are involved. WORD, in a three part series, will explore ways in which women in sub-Saharan Africa are being empowered to play a more significant role.
Abena Amoah Gyamfi hammers away at her computer keyboard. She's on deadline and is trying to find the right words for her story. Dressed in a colourful traditional African print, she somehow manages to shut out the din of excited reporters around her.
Gyamfi is a journalist with LUV FM and its sister station Nyhria FM in Kumasi, the second largest city in the West African nation of Ghana.
In the middle of the chaos you immediately notice two things. At 35, Gyamfi is older than most of her colleagues. She's also the only woman in the newsroom.
The travel guides call Ghana "Africa for beginners"
and in many ways, the country is a shining example of stability and good governance to other African nations.
On March 6, 2007, Ghana celebrated 50 years of independence from British colonial rule. But it's been a rough road.
Following independence, the nation experienced a series relatively bloodless of coups. Stability finally returned in 1992 with the birth of the fourth republic, a new constitution and national elections.
Ghana's population of around 23 million is split evenly between the sexes. The average life expectancy is 59 and women, on average, live about a year and a half longer than men.
Gender issues rise when one looks at literacy. About 58 per cent of Ghanaians over the age of 15 can read and write. But the 2000 census showed a large disparity between the sexes. Just over 66 per cent of males over 15 can read and write compared to just 49.8 per cent of women.
Since 1992, elections have been held every four years and are consistently judged to be free and fair. And while the constitution guarantees personal rights and freedoms, many people simply aren't aware of their rights.
Ghanaian journalist Kweku Temeng told me that one reason for this lack of awareness is because the constitution is printed only in English, Ghana's official language. Many people read and speak only their traditional languages.
Despite the constitutional guarantees, human rights violations like female genital mutilation, domestic violence and child labour continue to plague the country.
The question then: How to improve human rights awareness and empower the population, especially women?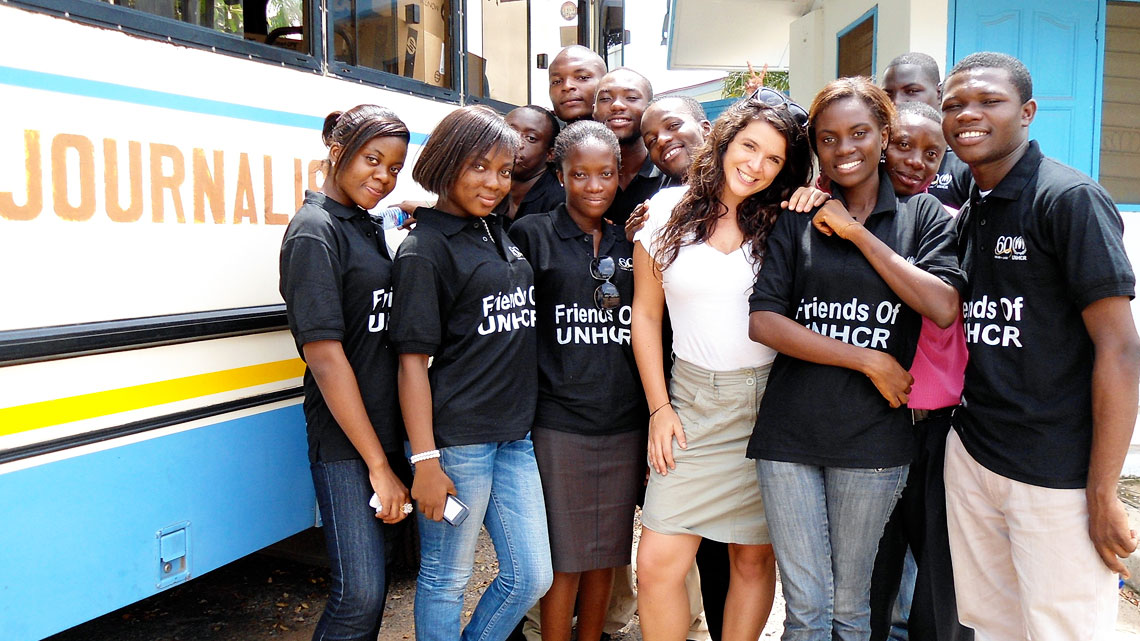 Journalists for Human Rights
Enter the Canadian non-governmental organization Journalists for Human Rights (JHR). JHR's concept of improving human rights awareness came from co-founder Ben Peterson's frustrations while working in Ghana.
Before his first trip to Africa, Peterson, who holds a degree in economics and politics from Queen's University and a master's degree in political theory from the London School of Economics, admits that he had only a passing interest in human rights and Africa. Then he landed a job in Ghana, preparing human rights reports for the United Nations.
The experience changed his life.
"Seeing the things I saw, hearing stories of human rights victims and living amongst some of the most incredible people that I'd ever met in my life — but who have some of the biggest obstacles to achieving their dreams. It really changed how I thought about the world," he recalls.
"I became disillusioned with a lot of the human rights work being done, a lot of it top down, with a lot of politicians talking, academics filing reports and lawyers talking in grand theories about human rights."
Peterson found that much of the work didn't necessarily translate down to the local level where people were actually suffering. From his experience he felt a moral duty to continue working in the human rights field and kept asking a simple question: "If only one thing could be done that would improve the human rights situation the most in Ghana, what would it be?"
"And everyone kept coming back to me, saying that improving public awareness about human rights is the first step to creating change."
Peterson figured that the best way to create this public awareness was through the media.
"Most Ghanaians have access to the radio and are very tapped into the media scene," he says. "If you get the media talking and generating interest in human rights issues you create a greater societal awareness about human rights — which would make a huge difference in the end."
Peterson came back to Canada, raised some money and Journalists for Human Rights was born.
About a year later, JHR found the funding it needed to launch a five-year program in Ghana with the partnership of the Canadian International Development Agency (CIDA).
The program places Canadian journalism professionals in Ghanaian newsrooms (radio, TV and print) as trainers to assist in the production of human rights stories. They are also expected to hold informal workshops on journalism techniques and human rights issues at their news outlets.
Additionally, two "expert trainers" travel the country to facilitate larger workshops for Ghanaian journalists. They also visit journalism schools to conduct lectures on journalism and rights issues.
JHR trainers post their stories and experiences on the organization's website [www.jhr.ca] and are encouraged to file freelance stories back to Canada, with the aim of spreading the word about international development.
Trainers also publish stories on Five Minute To Midnight [www.fiveminutestomidnight.org] a monthly online publication that promotes international development and human rights issues.

Supporting Africans Instead of Taking Over
In late 2006 Trisha Estabrooks was working as CBC Radio's legislative reporter in Whitehorse, Yukon. But she was looking for a challenge and a change.
"I had this desire and sense of adventure to explore Ghana, to explore Africa," she says. "It was a place that had long fascinated me and I was interested by how the Western media was covering Africa — or in many cases, not covering Africa."
Countless NGOs offer the opportunity to work in Africa, and as a journalist, Estabrooks had the freedom to freelance abroad. She was considering both options when she heard about Journalists for Human Rights.
"What sold me on JHR in particular was its mandate that journalists from Ghana should be telling their own stories. It's a very simple mantra, but it's one that clicked with me right away," she recalled.
"I wanted to be part of an organization that supports rather than takes over."
In January 2007, Estabrooks, along with her partner Graeme McElheran (himself a reporter with the Yukon News), left the cold of Canada's North for the heat of sub-Saharan Africa. Estabrooks was one of ten journalists from across Canada bound for Ghana.
It was a big change. Estabrooks was placed in the highly respected newsroom of LUV FM in Kumasi, a city of two million located about 200 km northwest of Accra, Ghana's capital.
LUV FM broadcasts a mix of news and current affairs and music programs. English is the dominant language, while sister station Nyhria broadcasts in Twi, a local language.
It was at LUV where Estabrooks met Abena Gyamfi. The two women hit it off, not only becoming a solid reporting team but good friends as well.
"From the start she made me feel part of the newsroom and part of Kumasi," Estabrooks says.
Gyamfi says that before there was a JHR presence in the newsroom, most stories were rarely afforded longer treatment.
"We were doing short stories, even if it was about defilement or rape," she explained. "[Trisha] used to encourage us to go out, especially when she heard about issues concerning women."

New Law Protect Women"s Rights
Several years ago, during the public debate over the domestic violence bill, a disturbing quote appeared in the Ghanaian media from a well-known judge. Speaking on the condition of anonymity, he told a reporter from the Ghanaian Chronicle newspaper, "It is un-Ghanaian for a man to be sentenced into imprisonment because he slapped or pushed his wife."
The quote sums up the difficulty women have had in ensuring their rights are respected.
A giant step forward for women's rights was the passage of the domestic violence bill in February 2007. However, a controversial clause covering marital rape was removed before the bill became law.
Nikki Whaites, JHR's international programs coordinator, feels that the marital rape clause became a huge issue because many men, including those in power, have the attitude that "they can have their wives where they want her, when they want her."
Whaites says marital rape is only one item in a long list of issues affecting women in Ghana: female genital mutilation, domestic violence, witch camps (where women, accused of being witches, live after banishment from their village and family), and a general lack of access to justice and healthcare.
Whaites also cites a lack of female representation in government. "Although it's been improving over the last few years, it is still really low."
Estabrooks says that many of the stories she worked on with Abena were about women being raped and not reporting it or, if they did, not having access to care or counseling services.
"I remember hearing a story about a woman who was beaten so badly by the police that she miscarried her child — and as this was happening a group of people watched it happen," she says.
"I think the media plays a huge role in education because that's where a lot of work needs to be done," Whaites adds. "Men and women need to be educated about their rights and how they're guaranteed under the constitution."

Women Leveling the Playing Field
Journalists for Human Rights embarked on a gender analysis study in the in mid-2007 to look at Ghanaian women in journalism. It found:
Female enrollment in Ghana's top three journalism schools is in excess of 50 per cent.
Of full-time journalists, the ratio of women-to-men is most balanced in the television field (45 per cent).
Women make up 33 per cent of full-time radio journalists nationwide.
30 per cent of print journalists are women.
Sarah Quarcoo of Women in Broadcasting told the authors of the study that many women fail to stay in journalism because of family pressures. They also tend to favour work that does not require overtime of shift work — something many editors look for. This can make it hard for women to advance in their careers.
Workplace harassment, domestic violence, property rights and single parent families were mentioned as the top under-reported women's issues by attendees at JHR's workshops.
The study concluded, "While there is coverage of human rights abuses, especially those affecting women, the stories aren't necessarily sensitive to the victims and often lack a broader context."
Abena Gyamfi and Trisha Estabrooks
are especially proud of the Kumasi Central Prison story they worked on together.
It was difficult for the pair to gain access and even then, only Gyamfi was allowed to speak with prison officials.
"We did that story and it got a lot of attention," Gyamfi says
"This was a shining moment for Abena and me because we had been trying for literally months to get inside that prison," recalls Estabrooks.
Gyamfi found that many of the prisoners — both men and women — suffered from health problems as a result of overcrowding. Some prisoners were forced to sleep in tents. Even the deputy director of the prison admitted that conditions inside were terrible.
Gyamfi also discovered that some of the remand prisoners had been in custody for more than a decade and had never gone on trial.
"She was tough that day — but she was compassionate and that's Abena. A tough, tough woman with a layer of compassion that shines through," said Estabrooks.
Gyamfi is proud of their work on the story because it brought about change.
"Because of that story," she says, "I heard that the government was increasing funding to prisons and they are working to address the overcrowding situation."

Working Side by Side with JHR
The five-year Ghanaian Human Rights and Media program, which winds up in 2008, is JHR's biggest project.
Journalists For Human Rights also receives Canadian funding through its Professional Youth Internship Program, an employment program aimed at 19-30 year olds. The program has enabled JHR to send 10 people to media outlets across Africa.
In Ghana, much of the work has been sustainable. A radio show on women's rights continues in Tamale, the largest city in Ghana's north. And the Social Justice Page appears weekly in the Accra-based Chronicle newspaper — even though JHR no longer has a trainer there.
JHR also has a good reputation amongst Ghana's human rights leaders.
Nana Oye Lithur, a well-known lawyer and the Africa coordinator for the Commonwealth Human Rights Initiative, praised JHR for not just coming to Ghana and foisting their views on Ghanaians.
"That is the beauty of the model — that they integrate, they actually work with the journalists in media houses and work side-by-side."
Prize McApreko, Amnesty International's former-country director in Ghana, notes that a number of people in the media may not have gone to journalism school, instead landing jobs because of their language skills, a good voice or simply based on their appearance.
"There's a danger if the person is on-air and not equipped with journalistic skills and standards," he says. "I see JHR coming in to fill this gap and I can tell you on authority that JHR workshops have had a very positive impact on them."
"Canada has had a long experience with human rights reporting," Lithur explains. "You have journalists who have gone through being trained but also living and breathing human rights coming to share their experiences."

Back in the newsroom at LUV, Gyamfi puts her story to bed. Another day done.
She says that because of the human rights stories the station does, they have good relationships with local lawyers, police and government officials.
"They are all interested in our stories. So now, I can go anywhere without fear."
Produced with the support of the Canadian International Developlment Agency (CIDA).
Cover photo courtesy of: World Pulse
Journalist photo courtesy of: jhr