feature
Jason Wilson
The Man Who Defines Modern Canadian Reggae
by Sebastian Cook
You can make a legitimate argument that no Canadian artist has ever done more to innovate within his genre and expand popular perceptions of what his artform represents than Jason Wilson has for reggae music. Given that he just celebrated his 40th birthday (with a concert, of course), now would be time to look both back and forward into the life and music of Canada's original reggae visionary.

"My journey as an artist is really the essence of the modern 'multicultural' Canadian story set to music," he begins; appropriately enough over some Jamaican fusion cuisine on an early summer Sunday evening at Trane Studio in Toronto. "My parents emigrated from Scotland, and I grew up in a working-class north Toronto community connecting with people from literally all over the world. I had the chance to experience those cultures and hear my friends' family stories in a frontline context, right at the time when Jamaican music and reggae culture were really becoming established here in Toronto. I started playing shows when I was 12, my first nightclub date with Messenjah at 14. So that fusion of roots reggae with so many other influences has been part of my musical identity from the beginning."

Wilson has always had a strong personal connection to the highest levels of reggae. His cousin is Michael Virtue, who for 28 years was the keysman for UB40, the best-selling reggae band of all-time. His keyboard mentor and foundational inspiration was Jackie Mittoo, "The Keyboard King of Studio One," who many consider to one of the musical fathers of reggae music. Mittoo had moved to Toronto in 1969, spearheading the city's burgeoning Jamaican music scene and working with artists such as The Sattalites, Earth Wind and Water, Boyo Hammond and Carl Harvey. Mittoo's final recording is featured on Wilson's first solo album The Peacemaker's Chauffeur. "Jackie took me under his wing," Wilson remembers, "and gave me the courage to push the envelope – like he did – and not to fear the so-called 'purists' who are challenged by the slightest diversion from the standard fare."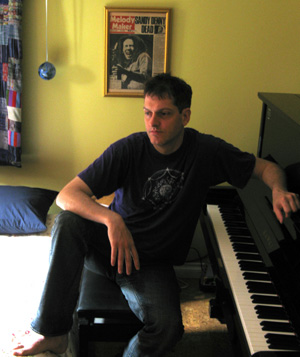 After first being nominated in 2001 for Jonah, Wilson earned his second Juno award nomination in 2009 for The Peacemaker's Chauffeur. This ambitious and brilliantly-realized double album – his first solo project – came after four full-length records and over 1,000 live performances in 10 years with his seminal Canadian reggae band Tabarruk. No less an authority than Bob Marley biographer Dermot Hussey considers this record to be "taking reggae to the next level." The stunningly diverse array of guests who appear on The Peacemaker's Chauffeur include: Mittoo, Pee Wee Ellis (James Brown's arranger and the "man who invented funk"); Ernest Ranglin (the man who taught Bob Marley to play guitar); Canadian reggae legend and "Armagideon Time" writer Willi Williams; arguably Canada's greatest contemporary pop songwriter Ron Sexsmith; former Aswad frontman Brinsley Forde; multiple Juno-Award winner David Francey; Jamaica's Fab Five, and Canadian jazz trumpet icon Brownman Ali.

"I'm trying to get as many people as possible to think of reggae as larger than its current linear reading with its requisite odes to ganja, Babylon and sundry," says Wilson. "The music and its outward perception have to evolve or it won't be relevant anymore. What is particularly inspiring to me is that by reaching into my own Scottish heritage and collaborating with players from what most people think of as traditional or vintage forms of music, I've been freed to develop a sort of post-modern reggae sound which is, at its core, somewhat analogous with Jamaica's own mento and pre-reggae folk music traditions."

His current line-up is one of Canada's most skilled and dynamic reggae bands and is comprised of Andrew Stewart (bass), Iain Green (drums), Marcus Ali (sax), and RJ Satchithananthan (trombone). His current album project is The Lion Rampant with fiddler David Swarbrick, best known for his work with the pioneering English folk-rock band Fairport Convention. This much-anticipated record is scheduled for release in the spring of 2011. The reggae pioneer is also the co-author of Lord Stanley: The Man Behind the Cup and is pursuing his PhD in Canadian history at the University of Guelph.

For music, reviews, booking info and more, visit www.jasonwilsonmusic.com

Sebastian Cook is a Toronto-based arts writer and consultant. Many of his reviews from 2006 to 2009 are archived on www.thelivemusicreport.com, currently on hiatus.