feature
Trane Studio Celebrates Seven Years
By Ann Marie Collymore
Smack dab in the middle of the city lies a venue that has been part of a bustling neighborhood for the past seven years. It boasts a quaint brick-faced interior, with warm and sensual colors that seep into your soul. And that is simply the décor. The music is billed as jazz, but is truly an eclectic mix and the food is simply divine. Trane Studio's vision was, and still is, to share the wealth and history of jazz and its many facets to the people of Toronto. And being named after a jazz legend, Mr. Coltrane himself, is quite a namesake to live up to. The black-owned venue, owned and operated by Frank Francis, remains one of the long-standing well known jazz haunts in the city. Seven years is a lot to be proud of, bruises, bumps, triumphs and all.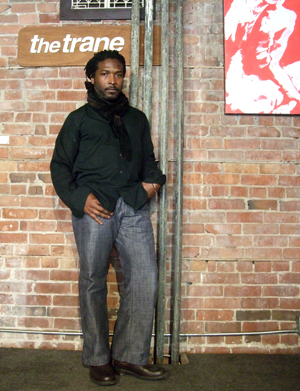 Owner Frank Francis' background is in theatre and the arts, therefore music was always a huge component in his work. As the past Artistic Director at Caliban Arts Centre, Frank was able to produce popular tribute shows for jazz greats such as Charlie Parker, Nina Simone and John Coltrane, to name a few. However, after having a not-so-pleasant showdown with another venue in Toronto in order to properly present a show at their facility, Trane Studio was born. There was a lot of struggle from the beginning, as stated by Frank, "I had to sacrifice a lot, but we won the good fight and are still standing 7 years later." Even though you set out to be successful, knowing your business is for one and all to enjoy, one does secretly hope that your own people will support it in droves. Regrettably, those droves seem to be elusive in finding their way to the doors of Trane. As discouraging as it may be, Frank holds steady, saying, "It has to be done together, it's a collective effort." An effort that may still seem elusive, but not at all out of reach.

There are many reasons why Trane Studio remains the jazz spot to visit in Toronto. "Part of it is there are people who are genuine art lovers. It's not a forced environment, not at all exclusive…" says Frank. The aforementioned reasoning alone takes away from the stuffy and sometimes pretentious vibe other places emanate, where the atmosphere is not as inviting. Walking into Trane Studio produces a sense of familiarity rather than selectivity, "It's simply a real audience of people who enjoy good music. Generally people like the honesty and humility to what we bring. It's not a superficial space, but an authentic space from the stage to the front door."

The nightly line-up at Trane boasts some of the best musicians, local and international, on any given day. Yet, just because jazz is the mainstay, doesn't mean it is all that is available on the menu. Trane also hosts DJs, soul artists, poetry and the like in the mix. While asking Frank what jazz means to him, he explained, "I hear a lot of the energy in black music. Jazz resonates as a 'black' word, the music is about 'cool'. It transcends into the music as cool, creative and professional. Coltrane, Davis, Jones, they all created a sense about how they were moving. It is all a matter of moods and energy, creativity that equals our life force as a people."

In any business plan, you have to think of what's next in order to move forward. What is in the cards for the future? How will your business carry on, especially when it has been a constant on the scene for seven years? What's next? "The next seven years will be like a rebirth of Trane Studios, in terms of creativity and commitment." says Frank. "I will not be responsible for killing it, I will be responsible for taking it forward. We will integrate the arts on a day to day basis. That is the Trane experience." Trane will continue on to be the talk of the town and the purveyor of amazing shows to come. Frank's last words were "I hope we start to embrace our talents and gifts even more…" Indeed you will, there is no question. Cheers to another seven more!